Welcome to Valley Toyota's Service Department
---
Proud to be Chilliwack's Toyota Dealer!
How Can We Help?
Hours
Service Department Hours
Monday | 8:00am - 5:00pm
Tuesday | 8:00am - 5:00pm
Wednesday | 8:00am - 5:00pm
Thursday | 8:00am - 5:00pm
Friday | 8:00am - 5:00pm
Saturday | 8:00am - 4:00pm
Sunday | Closed
Trusted Service Advisors
Our service advisors are here to ensure that your vehicle has a long life. We believe in offering preventative maintenance instead of reactive maintenance. Why?
Regular Maintenance will save you money, plain and simple. Many of your vehicle's components need routine maintenance outlined in your maintenance scheduler. When these scheduled maintenance tasks go undone, costly repairs are often required. One example is having a broken timing belt when driving, as this can cause severe engine damage, requiring an expensive engine rebuild.
Our service advisors make sure that everything is taken care of for your service appointment in Chilliwack.
Certified Toyota Technicians
Having a Toyota certified automotive technician (Certified Toyota Mechanic) performing a service work order on your vehicle ensures that your car stays under warranty and that the parts and service completed are covered.
You can also trust that any parts that are required are Toyota genuine parts. Having worked on many Toyota vehicles are mechanics have the experience necessary to make sure your Toyota is optimally running when you come in for your
scheduled maintenance
.
No matter if your vehicle is the common Toyota Corolla or a heavy-duty truck that needs to be worked on, our technicians are trained and specialized in taking care of your vehicle. Having the right heavy equipment need to service your Toyota truck, car or SUV properly.
You will be pleased to find that our prices are competitive while also delivering exceptional quality in the service and parts used. All our services are backed by a warranty on the products installed and services performed on your vehicle.
Even if you don't have a Toyota vehicle, we offer many common service types, including oil changes that require traditional oil and full synthetic oil. With red seal approved mechanics for out-of-province inspections.
You may also be surprised that we come in at a lower price point than many other Chilliwack and Fraser Valley options.
Oil Change | Scheduled Maintenance | Seasonal Check-Ups | Inspection Services | Battery Testing & Replacement|
Wiper Blade Replacement | Air Filter Replacement | Brake Repair & Services | Transmission Service | Spark Plug Replacement |
Differential Services | Air Conditioning Service | Cooling System | Fuel System Service | Timing Belt Replacement  | 
Wheel Alignment & Balance Seasonal | Tire Change & Tire Storage | Tire Rotation
Complimentary Amenities:
Shuttle Service | Comfortable Customer Lounge | Free WiFi | Refreshments | Car Wash With Every Service Visit | Windshield Fluid Top Up With Every Service Visit
Three Easy Steps To Get Your Vehicle Serviced
STEP 1
Contact Us /Schedule Appointment
You can schedule an appointment online or give us a call by calling our phone number: (604) 792-1167 to schedule your appointment. If you know what you need, that's great as we schedule in for those services, but if you have unknown issues, please book a multi-point inspection to diagnose the problem with your vehicle.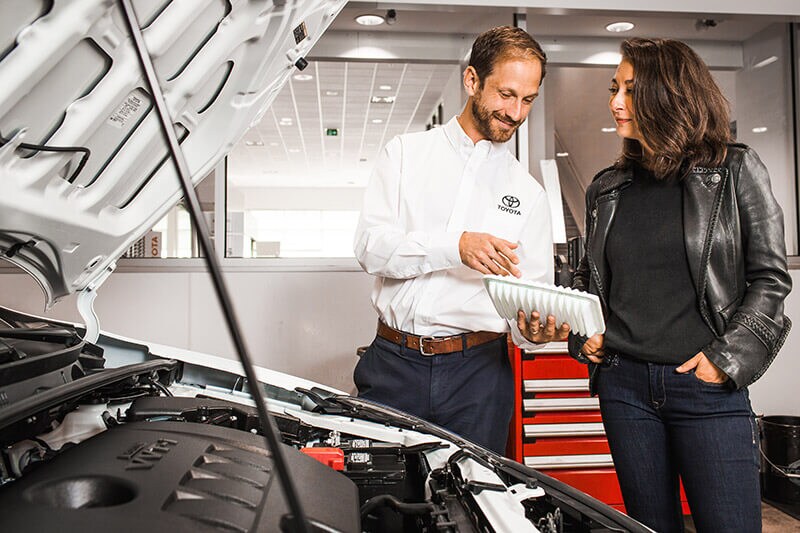 STEP 3 
Drive Away
Come in and pick up your car or schedule your service shuttle pick up. We will go over the work completed and potential repairs that are needed soon. We also provide a complimentary car wash for your or contact us.
 If your car is not ready due to additional work required, Valley Toyota provides a complimentary loaner vehicle. If at any time you are not pleased or something needs to be addressed, please speak with your advisor
STEP 2
Bring Your Vehicle In
When you bring in your vehicle, you can drive right through into the heated bay. We go over the planned maintenance. Afterwards, you can choose to wait in our service lounge or use our shuttle service, by appointment to get you where you need to be. If you decide to stay, we have coffee, tea and of course Free WiFi to ensure you can relax or stay productive with available tables and cable tv.